VIOLINIST • VIOLIST • CONCERTMASTER • EDUCATOR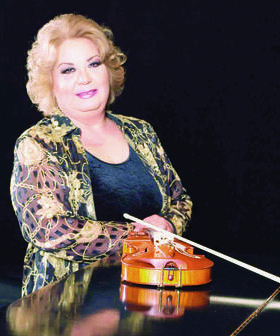 Born in the musical city of Matanzas Cuba, Irina Vázquez grew up surrounded by music. Her uncle, a symphonic violinist, inspired her early enthusiam for classical music, particularly on the violin. Meanwhile, her home and community life were filled with the popular music of Cuba's boleros, guarachas, sones, contras, and trova. A precocious child, she was accepted at an early age to the National Music School in Havana, and studied with some of Cuba's most renowned teachers, as well as visiting artists from around the world.

She was accepted into the world class Matanzas Symphony, and worked her way up to become Concert Master, a job she held for 20 years. With the orchestra and in her small ensembles, she was privileged to collaborate with such international stars as Michel Legrand.

Her days were spent playing orchestral music, while evenings often found her moonlighting with various bands on Varadero Beach, playing popular music of all genres. All these experiences served her well when she left Cuba for Mexico. Following family members north, she spent a few years in Florida, and has now settled in Atlanta, where she serves as Principal 2nd Violinist in the Alpharetta Symphony Orchestra and performs popular music of all styles with CubanaSong, the Quarantine Quartet, and in duo with multi-instrumentalist Mick Kinney.

In addition to being a performer of note, Irina is also a gifted teacher, meeting students where they are to help them progress toward where they would like to be. She is experienced and particularly loves working with children with different abilities, and is certified in teaching children with autism.

In addition to her prodigious musical talent, Irina is an extremely fun loving person. Those who have the opportunity to work with her, find her to be a joyful and jovial collaborator.
EDUCATION & TRAINING
Born 1964, Matanzas, Cuba
Bachelor of Music, University of Arts, Havana, Cuba, July 2000
INSTRUMENTS
Violin – Orchestral, Chamber, Solo, Teaching
Viola- Orchestral, Chamber, Solo, Teaching
Piano – Teaching
LANGUAGES
Spanish (primary)
English (secondary)
ADDITIONAL SKILLS
Relationship building trainings
Verbal and writing communications
Student counseling
PERFORMANCE
Matanzas Symphony Orchestra, Matanzas Cuba

Concertmaster, May 1994 – Nov. 2014
Violinist, Sept. 1983 – Nov. 2017

Emperor Symphony Orchestra, Lakeland FL

Violinist, May 2017 – Nov. 2017

Durango Chamber Orchestra, University of Victoria de Durango, Mexico

Violinist, Nov. 2014 – Aug. 2016

Durango Symphony Orchestra, University of Victoria de Durango, Mexico

Violinist, Nov. 2014 – Aug. 2016
TEACHING
Elite Music Instruction, Coral Springs FL ~ Sept. 2020 – Feb. 2021

Individual and group violin, viola, and piano lessons
Structuring lessons to suit interests and abilities of individual students

Concertina Music School, Kendall FL ~ Jan. 2017 – Feb. 2021

Teaching fundamentals of piano, viola, and violin at various levels
Training students for Ensemble playing

Escuela Superior de Música, Victoria de Durango, México ~Nov. 2014 – Aug. 2016

Teaching violin, viola and Chamber music.

Escuela Superior de las Artes, Matanzas, Cuba ~ Sept. 1990 – Nov. 2014

Violin, Viola

Performance skills
Ensemble playing
Chamber music